Looking out to the WSW from Emery Peak's summit at the "Silverton West Group" of summits, of which Vermillion Peak is the
highest, left of center and with a distinctive horizontal snow band, at a distance of 13 miles.; San Juan Mountains, CO.

C. Wetherill - Sample Photography from Colorado's Wilds
Please note: This is a private directory not referenced by or linked to the outside I-Net. I don't particularly want these photos or links to them scooped up by web crawlers, spiders and bots, email scanners, etc., and then out there on every computer who-knows-where?.They are not in, or meant for, the public domain.
Please consider them all by personal invite and for your eyes only. Thanks.
Yes, even saving a copy on your machine and making it your background screen shot can result in it getting sucked up and sent to the mothership by MicroSoft.
All copyrights reserved. © 2018 C. Wetherill.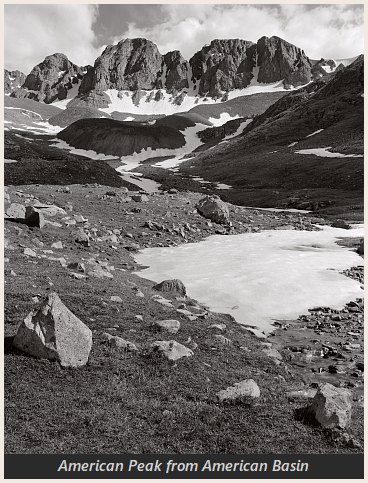 All photos are in horizontal / "landscape" orientation.
The selection here is somewhat arbitrary, based on what comes to mind that I think might be both representative and worth showing. This necessarily biases the choices to my more recent work, which is more in my mind, done primarily with digital cameras. I continue to scan and digitize negatives/slides from decades back when time allows (-the 4x5 @right was taken over the Fourth of July weekend during the 1976 Bicentennial).
The GPS locations, accurate to a fraction of an arc-minute (several hundred feet) in most cases, where these were taken is provided so you can see for yourself -- and maybe take your own picture there!
I think there's only two wildflower photos here, as I tend to eschew what I call pretty picture, "Isn't that beautiful?", coffee table book type photos. Sometime in the 1970s these all started to be printed in East Asia, where they'd never seen our mountains, and so they cranked up their color correction masking and color saturation levels to what I consider unrealistically cartoonish and garish levels.
Since I didn't want to mix B&W and color, I'll eventually put the former in its own section.
16:9 Aspect Ratio
South Lookout Peak, Early Fall Afternoon (APS-H Composite Digital)
Dragon Point at Sunset, Black Canyon of the Gunnison Nat'l Park (Ultra-Wide Angle Composite Digital)
Early Fall Colors Along Walkway at Silver Jack Reservoir (APS-C Digital)
Leaping Girl at Bear Creek Falls Overlook (APS-H Digital)
Indian Paintbrush and Wildhorse Peak (APS-C Digital)
The Rio Grande River at Wagon Wheel Gap (4x5 Color Sheet Film)
Uncompahgre & Wetterhorn Peaks from Windy Point Overlook (APS-H Composite Digital)
Cloud Shadows on Rolling Mountain, from Grizzly Peak (APS-C Digital)
Early Fall Colors, Cimarron River Valley (APS-C Digital)
Double Rainbow, Black Canyon of the Gunnison Nat'l Park (APS-C Digital)
Wetterhorn Peak from Redcliff (APS-C Composite Digital)
21:9 Aspect Ratio
Sneffels Range NW Corner Panorama (APS-C Composite Digital)
Spanish Peaks & Culebra / Sangre de Cristo Range Vista (4x5 Color Sheet Film)
Potosi Peak & Teakettle from Imogene Basin (APS-C Composite Digital)
Abstract Aspen, Slumgullion Creek (APS-H Composite Digital)
Vista S from Blackwall Mountain's S ridge (APS-C Composite Digital)
Mount Wilson massif, from Grizzly Peak (APS-C Composite Digital)
3:2 Aspect Ratio
Full Moonrise E of Montrose (APS-C Digital)
Dawn Clouds & Perseus (APS-C Digital)
Stormscape at Sunset; South Park (35mm Kodachrome)
Sun Sculpted Snowfield above Red Mountain Pass (APS-C Digital)
Looking S-SW from high on Mount Sneffels (35mm Kodachrome)
Western Sunset; Montrose (APS-C Digital)
Lichened Bedrock and Forest (APS-C Digital)
Solitude & Snowshoe Tracks at 12,000 feet under Gilpin Peak (APS-C Digital)
7:5 Aspect Ratio
Late Summer Storm beyond Wetterhorn Peak (APS-C Digital)
Misc. Other Aspect Ratios
Budding Aspen, Cimarron River valley (4x5 Color Sheet Film)
Deep Forest Aspen, Rio Grande River valley (35mm Kodachrome)
Aspen & False Lupine Forest; Cuchara Pass (4x5 Color Sheet Film)
Deep Forest Lichen Covered Boulder; Mount Sneffels Wilderness (4x5 Color Sheet Film)
Winter Sunset; Monarch Pass (4x5 Color Sheet Film)
West Summit Ridge of UN 13,722 ("Animas Forks Peak") (35mm Kodachrome)
Vista Looking S from Stony Pass; San Juan Mountains (4x5 Color Sheet Film)
Aspen at Base of Lichened Boulders & Cliffs; Puma Hills (4x5 Color Sheet Film)

[ Main VISNS Page ]