This Month in the History of Astronomy - August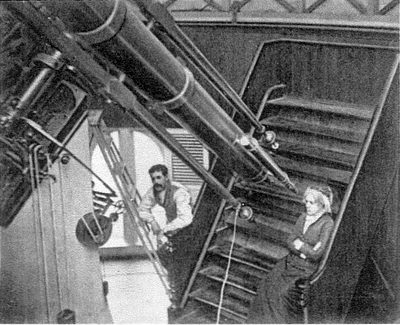 Aug 1, 1818 - Maria Mitchell, the first woman elected as an astronomer to the American Academy of Arts and Sciences and the American Association for the Advancement of Science. Mitchell achieved worldwide fame for her discovery of a bright comet in 1847 (Oct 1), and publishing her calculated orbit for it in Feb 1848. This subsequently brought her in contact with such luminaries as Ralph Waldo Emerson, Herman Melville, Elizabeth Cady Stanton, Frederick Douglass, and Sojourner Truth; when she travelled in Europe she met, among others, famed naturalist Alexander von Humboldt and William Whewell (--polymath who coined terms like scientist, physicist, linguistics, consilience, catastrophism, uniformitarianism, and astigmatism; and suggested to Faraday the terms electrode, ion, dielectric, anode, and cathode).
Both Mitchell's parents were Quakers, and her father was a public school teacher who pursued an interest in mathematics and astronomy, so all his children were brought up being educated in astronomy. Her first observations were made (c.1840) after her father's school closed and he got a job making astronomical observations and geographical calculations for the U.S. Coast Survey, using a 4" telescope.
Photo at right taken at the Vassar College Observatory refractor sometime between 1865, when she became professor of astronomy and observatory director there, and probably about a decade later. Mitchell and her students began photographing sunspots daily starting in 1873, the first regular photographs of the sun. During Mitchell's 20+ year tenure Vassar had more mathematics and astronomy students than Harvard, two dozen of which made it into Who's Who In America?.

Aug 5, 1930 - Neil Armstrong, first human to walk on the moon.

Aug 9, 1911 - William ("Willy") Fowler, American nuclear physicist and astrophysicist who shared the 1983 Nobel Prize in Physics with Indian astrophysicist Subrahmanyan Chandrasekhar.
Fowler was a life-long Cal Tech-ian, earning his Ph.D. there in 1936, under Charles Lauritsen (who had done his own Ph.D. there under the famed Robert Millikan, and was first director of the "Rad-Lab"), then becoming a research fellow, assistant professor (1939), and full professor (1946). He directed the W.K. Kellogg Radiation Laboratory at Cal Tech (1962 to ~1976), where the first accelerator-produced artificial radioactivity had been made (in 1934) and where it was discoverd a carbon nucleus could capture a proton, becoming a nitrogen nucleus and releasing a gamma ray in the process; this radiative capture process was of particular significance in the field of nuclear astrophysics, leading to his work with Fred Hoyle and Margaret and Geoff Burbidge on the synthesis of the elements beyond hydrogen and helium in the cores of stars.
Besides the Nobel Prize, the list of awards Fowler received is staggering: the Medal for Merit (1948, by President Truman), the Henry Norris Russell award, the American Astronomical Society's highest (1963), the National Medal of Science (1974), and the Eddington Medal (1978) -- just to name a few.
[Photo at right shows him with the Burbidges on the left and Hoyle at right, being presented a gift of a model of a steam engine for his sixtieth birthday. He had grown up near the Pennsylvania Railroad and had a life-long interest in locomotives, particularly steam engines. For more details on this, see a brief, partial autobiography in the 1992 Annual Reviews of Astronomy & Astrophysics, edited by Geoff Burbidge.]

Aug 12, 1897 - Otto Struve, Russian born astronomer from a distinguished Baltic German family of five generations of astronomers, who spent his career in the U.S. after escaping the Bolsheviks, starting as a stellar spectroscopy assistant at the Yerkes Observatory in 1921. He would go on to publish 900+ papers, articles, and books. His main research interests centered on stellar spectroscopy -- pulsating stars, binary stars, rotating stars, as well as the interstellar medium. By 1932 he'd become director of the Yerkes Observatory, a position he'd hold for 15 years. From 1939 to 1950 he acted as a founding director of the McDonald Observatory in Texas -- at the time the 82" telescope was the world's biggest, after the Mount Wilso 100" -- and would also be the first director of the National Radio Astronomy Observatory at Green Bank, West Virginia (1952 to 1962).

Aug 12, 1919 - E. Margaret Burbidge (née Eleanor Peachey), British born and educated astrophysicist who worked chiefly in the U.S., at the Yerkes Observatory (six years) and briefly at Cal Tech (when women weren't allowed to use the Mount Wilson & Palomar telescopes), before becoming a research astronomer and then professor of astronomy and eventually director of the Center for Astronomy and Space Sciences at the University of California, San Diego -- as well as in Tucson, where husband Geoff was director of the Kitt Peak National Observatory from 1978 to 1984. In 1972-73 she herself was director of the Royal Greenwich Observatory back in England, and was president of the American Astronomical Society after returning to the U.S. (and becoming a citizen). She was the first woman president of the American Association for the Advancement of Science.
M. Burbidge is probably most thought of for being the lead author of a famous, landmark, 108 page paper in Reviews of Modern Physics in Oct, 1957 -- Burbidge, Burbidge, Fowler, & Hoyle, usually referred to as B2FH -- which laid out the details of the chained nuclear reactions for nucleosynthesis in stellar interiors, which is the basis for our modern understanding of stellar evolution, how the elements heavier than hydrogen and helium in the periodic table (known collectively as "metals" in astronomy) are created, and the processes leading up to novae and supernovae. All of these in turn form the basis for our understanding of the chemical evolution of galaxies, their increase in "metallicity" over time.
This work was stimulated by the discovery by Merrill five years earlier of spectral lines for the short-lived radioactive element technetium in the spectra of stars: since the stars are many times older than technetium takes to decay, this showed elements were currently being made in their interiors and then relatively quickly transported to their surfaces (photospheres), where they were observed. Three of the four B2FH authors were British. Only Fowler shared in the Nobel Prize (Physics, 1983), the reasons for which are still debated by science historians. (A possibly relevant complication is that the prize can go to at most three people in a given year.)
An expert in observational spectroscopy, Burbidge also contributed to early research on quasars, co-authoring a book on them with her husband in 1967, and at one time co-holding the world record for having discovered the quasar (OQ 172) with the highest redshift (z=3.53), which held for almost a decade (1974−1982). Much of this work was done with the 3-meter telescope at Lick Observatory. She and Geoff and Roger Lynds also made the first observations of absorption lines in QSOs (3C 191). She'd later be involved in the design and construction of the Faint Object Spectrograph (FOS) for the Hubble Space Telescope.
As of 2019 Burbidge was celebrating her 100th birthday, though she only survived another ~6 months.

August 16, 1744 - Pierre Méchain, French astronomer and surveyor who was luckily noticed by Jérôme Lalande at a young age, met and befriended Charles Messier at age 30, and ended up directing the Paris Observatory from 1799 until his death five years later from the yellow fever he caught in Spain while trying to refine his measurement of what's called the Dunkirk-Barcelona arc: the distance from the earth's pole to its equator was to become the basis for the metric system's unit of length, ten million meters. He was off by less than ¼mm per meter, sometimes referred to as "Méchain's error". It would be nearly two hundred years before this was noticed, by satellite measurements.
Earlier (1787) he had been involved in determining the precise distance between the Paris Observatory and the Royal Greenwich Observatory, as part of a veritable super-group of mathematician-scientists which included Cassini and Legendre; they visited William Herschel while in England.
During his life Méchain discovered twenty-five of what are now called Messier (M) objects, including the Sombrero Galaxy (M104), the Pinwheel Galaxy (M101), and the companion galaxy (NGC 5195) to M51, the Whirlpool Galaxy. In addition he discovered (or co-discovered) 11 comets, including 2P/Encke; his name is not now attached to any of these because their orbits were only calculated in the decades after his death, when usable mathematical techniques for doing so were first developed -- based on the sort of solid observational data compiled by the likes of Méchain.

Aug 16, 1845 - Gabriel Lippmann, French-Luxembourg physicist, who invented the coelostat, the principle behind modern fixed solar telescopes, and was the 1908 winner of the Nobel Prize in Physics for his invention of an interference method of color photography (i.e., one that did not use dyes or pigments), which he started work on almost fifty years before Kodachrome film came on the market. Much later, laser holography would be based on the same basic principles.
Marie Curie was one of his doctoral students at the Sorbonne; he himself had been a doctoral student of Gustav Kirchhoff (of Kirchhoff's Laws fame), graduating summa cum laude in 1874. Among several other such positions, he was president of the French astronomical society in 1903–04.

Aug 19, 1646 - John Flamsteed. He observed the September 12, 1662, annular eclipse of the Sun from his home at age sixteen and went on to become the first Astronomer Royal, succeeded in the position by Edmund Halley, and he laid the foundation stone for the Royal Greenwich Observatory.
Flamsteed improved on Tycho Brahe's decades old star maps, which were based on visual observations, by a factor of fifteen in positional accuracy. Using 20,000 observations of these ~3,000 stars, Flamsteed was the first to determine modern, telescope based values for Greenwich's latitude, the obliquity (slant) of the ecliptic relative to the celestial equator, the position of the equinox (where the ecliptic crosses the celestial equator), the distance to the sun (the value for the AU), and the eccentricity of the earth's orbit.
When you see a star designated, say, 61 Cygni -- which was actually #85 in the 1712 edition of his catalogue, and is a very nearby (11.4 light years) binary of two K dwarfs, and was also the first star other than the Sun to have its distance measured -- you're using Flamsteed numbers.

Aug 19, 1891 - Milton Humason, colleague of Edwin Hubble's at Mount Wilson and Palomar Mountain, who was instrumental in first measuring faint galaxy spectra, providing evidence for the expansion of the universe.
Humason got his circuitous start in astronomy by first attending a summer camp on Mount Wilson (1905), after which he dropped out of high school at age 14 and returned to the area, doing a six year stint as a ranch foreman in the area. With no further formal education, around 1908-10 he became a mule driver on the packtrains used to carry everything up the mountain for the construction of the observatory there. Marrying the observatory engineer's daughter in 1911, he was first hired on at the observatory when a janitorial position opened up. He quickly was promoted by George Hale to night assistant to the observing astronomers, and then to the scientific staff (1919) just as the 100" telescope was nearing completion.
By the mid-1930s he'd measured the largest redshifts (distances) then known, z=0.131 to the Boötis I galaxy cluster and z=0.137 to the Ursa Major II galaxy cluster (1936).
After the discovery of Pluto, it was noticed that Humason had taken four photographs of it in 1919 with the 10-inch Cooke triplet lens refractor, but had not noticed it, the plates being made with another purpose in mind; never-the-less, the measurements of Pluto's position a dozen years before its discovery were a great help in quickly pinning down its orbit early on.

Aug 20, 1779 - Jöns Jakob Berzelius, Swedish chemist who did no astronomy but prepared, purified, and analyzed over 2,000 compounds (1810-16), in the process establishing Dalton's atomic theory and Proust's law of definite proportions. He's also responsible for the introduction of the letter symbols used today in the periodic table, and his table (1828) of atomic masses for the forty elements then known is generally not far off from modern values. He himself discovered four new elements: cerium (1803), selenium (1818), silicon (1824), and thorium (1829). He's responsible for the invention of the concepts of 'catalysts', 'radicals', 'halogens', 'organic' (chemistry/compounds), and 'isomerism'. Berzelius also wrote a widely used textbook (1803) and collated and edited an annual review of chemistry research (1821-49).

Aug 22, 1834 - Samuel Pierpont Langley, first director of the Allegheny Observatory, a solar astronomer, inventor of the bolometer (1878), and a famous aviation pioneer to boot. Langley funded the observatory for fifteen years by selling an early version of a standard time signal to cities and the then new railroads. The bolometer made possible early observations of infrared radiation, and in 1881 Langley ascended to the top of Mount Whitney (with James E. Keeler) to record the Sun's output; comparison with measurements from nearer sea level allowed one to extrapolate to the Sun's total output above the atmosphere, and such IR measurements over about a decade figured prominently in the chemist Svante Arrhenius's 1896 paper on the effect of carbon dioxide in the atmosphere, now known as the greenhouse effect.

Aug 24, 1876 - Carl Wilhelm Wirtz, who spent his time at both the Kiel Observatory in Germany and the Observatory of Strasbourg, France, and is chiefly remembered now for being the first to propose a velocity-distance relationship for the redshifts of galaxies (1922). Wirtz relied on radial velocity measure from Vesto Slipher, and used the angular sizes of galaxies as a proxy for their distances, implicitly assuming all galaxies have the same physical size.
Wirtz also thought he had data showing more massive galaxies to have smaller redshifts than smaller galaxies, and that counter-clockwise spiraling galaxies have smaller redshifts than clockwise spiraling ones. He interpreted his results in terms of the de Sitter model for the universe, which is empty of matter (zero density) but has the interesting property that if you sprinkle test particles in it you can see that it is in fact expanding; Wirtz thus thought that the velocity-distance relationship was due to a higher time dilation effect for more distant galaxies.
Discoveries and other firsts
Aug 1, 1729 - French professor of mathematics Nicolas Sarabat discovers the Comet of 1729, thought to be the largest comet ever seen, based on its calculated absolute magnitude of about -3. It might have been 100 km in diameter.
The comet was near its closest approach to earth, 3.1 AU, when discovered, and because of this large distance it was never very bright in apparent magnitude -- only 3-4, meaning barely naked eye if you knew where to look. Cassini in Paris was able to observe it until the third week of January 1730, an unusually long time for a comet back then.
The Comet of 1729 is one of a class with an orbit assumed to be parabolic (i.e., an eccentricity of 1.0), so it's uncertain whether or not it will return in something like 100,000 years or leave the solar system entirely.

Aug 1, 1786 - Catherine Herschel discovers the first of the eight comets she'd turn up over about the next decade. Her older and more famous brother William was subsequently summoned to Windsor Castle after the discovery was announced to show Caroline's comet to the royal family. She was the second woman to discover a comet, Maria Kirch having found one earlier in the century.

Aug 3, 1872 - Charles A. Young observes a flare on the sun with a spectroscope and calls attention to its coincidence with a magnetic storm on earth.

Aug 5, 1864 - Giovanni Donati makes the first spectroscopic observations of a comet (Tempel, 1864 II) and sees what are now known as the Swan bands (3 of `em) due to molecular carbon (C2).

Aug 6, 1181 - Chinese and Japanese observers record a zero magnitude "guest star" in northern Cassiopeia and then follow it as it fades over the next six months. The remnant was only recently discovered [photo at right], by amateur Dana Patchick in August, 2013, in archived images from NASA's Widefield Infrared Survey Explorer (WISE). Previously, the best candidate was the nearby radio source 3C 58, cataloged many decades ago, but it might be several thousand years old, and contains a pulsar (neutron star).
The measured expansion velocity of this newly found nebula, as well as its size and position, make it the best candidate for the supernova 850 years ago. But there's no neutron star or black hole at its center, only a very peculiar white dwarf, with a temperature of 200,000°K and stellar winds of 16,000 km/sec. According to one model, SN1181 was a rare type Iax supernova, in which two white dwarfs collide and one somehow survives.

Aug 6, 1996 - The head of NASA, Daniel Goldin, releases a statement about an upcoming paper in the journal Science on the possibility of ancient, fossilized microscopic primitive life forms having been discovered in the Martian meteorite known as ALH 84001, collected in 1984. A press conference the following day at the White House with President Clinton and one of the paper's authors (Dr. Everett Gibson) received extensive national and international news coverage. Even though considerable doubt was eventually cast on the paper's tentative propositions about what had been found in the meteorite, the event and the ensuing controversy did lead to a big increase in interest in exploring Mars and other planets/moons where life might have arisen sometime in the past, and gave a big boost to the nascent fields of astrobiology and exobiology.

Aug 7, 1869 - A widely witnessed total solar eclipse over the U.S. (Alaska to N. Carolina) in which spectra of the Sun's corona first revealed a mysterious green emission line. Helium (in absorption) had only first been identified in the sun's spectrum a year earlier (see Aug 18 below) so at first the line was attributed to an unknown element, 'coronium'.
It was not until 1941 that the Swedish physicist Dr. Bengt Edlen correctly identified the line as belonging to iron ionized thirteen times (Fe XIV). This was early evidence pointing to extremely high coronal temperatures, on the order of a million degrees Kelvin. The atomic and electron collisions in the plasma are then violent enough to knock so many electrons off even a big, heavy, and slow-moving element like iron, with thirteen being half of its number of electrons under more normal (neutral) circumstances. It was only a few years later that the corona first started to be observed at radio wavelengths -- though it was suspected that the radar receivers during WW II were picking up the sun in some fashion -- which confirmed the very high temperatures. The way in which these high temperatures are created and maintained is not precisely understood.

Aug 7, 1959 - Explorer 6 is the first satellite to return photos of the Earth from orbit.

Aug 8, 1989 - Launch of the European Space Agency's Hipparcos precision astrometric satellite. The design objective, utilizing only an 11" Schmidt telescope, was to provide the positions, parallaxes, and annual proper motions for some 100,000 target stars with an unprecedented accuracy of 2 milli-arcseconds (mas). Eventually, 118,000 stars were measured to an accuracy of better than 1 mas. As well, two and a half million more stars down to 11½ magnitudes had their positions measured to ~30 mas and their brightnesses measured (at two broadband wavelengths) to an accuracy of 0.0015 magnitudes.

Aug 10, 2008 - The Wide Field and Planetary Camera 2 on the Hubble Space Telescope celebrates the satellite's 100,000th orbit around the earth by shooting a mosaic of photos of the star cluster NGC 2074 and its surrounding ionization nebula (HII region) in the Large Magellanic Cloud, part of the Tarantula Nebula complex.

Aug 11, 1877 - Mars's outer satellite Deimos first seen, by Asaph Hall of the U.S. Naval Observatory. He turned up Phobos, the larger of Mars's two moons, six nights later.
Seventeen years later Hall would be the first to suggest that the unexplainable advance in the perihelion of Mercury's orbit might be due to Newton's Law of Gravity being incorrect, rather than, say, the result of an undiscovered hypothetical planet (Vulcan). It would be another 21 years before the issue was resolved when Einstein announced General Relativity.

Aug 13, 1596 - David Fabricus first notices the variability of the long period (331.6 days) red giant star Mira, ο (omicron) Ceti, now a prototype for this class of M spectral type star. Mira typically lives at 9th or 10th magnitude before brightening ~250x to 3rd or 4th magnitude, but has gotten to 2nd magnitude, and on one known occasion was almost as bright as 1st magnitude Aldebaran.

Aug 13, 1847 - The fourth brightest asteroid, 7 Iris, is discovered by John Russel Hind in London. Named after the Greek rainbow goddess, it is thought to be a low iron, LL-chondrite, S-type of asteroid, similar in compostion to the meteor which exploded over Chelyabinsk, Russia, on Feb 15, 2013. It has a diameter of ~135 miles and rotates once every 7.1 hours.

Aug 14, 1959 - The first very crude photograph of the earth from orbit is made by NASA's Explorer VI satellite, launched a week earlier and manufactured by JPL and TRW to study trapped radiation in the earth's magnetic field, galactic cosmic rays, radio propagation in the upper atmosphere, and the flux of micrometeorites (using piezoelectric crystal microphones as sensing elements).

Aug 16, 1968 - Paul Muller and William Sjogren at JPL announce the discovery of lunar mascons (short for "mass concentrations") after carefully tracking small changes in the orbit of Lunar Orbiter 5 over 80 orbits.
The five conspicuous ones were associated with prominent maria ("seas"), suggesting these were formed by giant asteroid impacts, with the relatively denser remnant of the asteroid buried under the surface, causing the observed dips in the spacecraft's orbit due to the slightly greater gravitational attraction above them.
The huge impacts would have either punched a hole in the lunar crust down to where the moon's interior was still molten, the magma then welling up and flooding the crater to form the mare, or the impact also could have melted enough of the surrounding lunar crust for it to have then flowed into and filled the crater more from the side than from below.

Aug 17, 1885 - French astronomer Ludovic Gully sees the the first ever extragalactic supernova, in the Andromeda Galaxy, during a public observing event, but dismisses it as maybe being the result of moonlight. Three nights later, German astronomer Ernst Hartwig is showing the Andromeda Galaxy to some friends at the Dorpat Observatory in Estonia and sees the new star through a 9" refractor. The observatory director, Ludwig Schwarz, prevented Hartwig from notifying other astronomers, so it wasn't until the last day of the month that Hartwig snuck a telegram out.
Of course at that time galaxies were not recognized as exterior to the Milky Way (the real debate over that was 30-35 years in the future), and SNe were not recognized as exploding stars at the endpoint of stellar evolution for another 40-45 years, so the star was designated as the variable star "S And" -- only the 2nd variable star found in the entire constellation of Andromeda. Hartwig recorded its magnitude as 5.8 (5.9 by some sources), making it theoretically naked-eye visible, and it was thought to have peaked right around the 21st of the month. To this day it's the only SN seen in the Andromeda Galaxy.
[Naming of variables starts with the letter R, then S, etc., and the (abbreviation for the) name of the constellation; after Z it goes RR, RS ... RZ, SS, ST ... SZ, all the way to ZZ before starting over with double letters at the beginning of the alphabet (but ommiting J) up to Q, and then using numbers starting with V335 after all the letter combinations are used up. You can blame the 19th century Prussian astronomer Friedrich Wilhelm August Argelander for this scheme. (See Mar 22.)]

Aug 17, 2017 - The first collision/merger of two neutron stars, in the S0 galaxy NGC 4993 ~40Mpc away, is picked up by the Laser Interferometer Gravitywave Observatory (LIGO), followed two seconds later by its detection by NASA's Fermi Gamma-ray Space Telescope satellite. Despite the poor angular resolution of these instruments, in only ~10 hours they were able to pin down the location of the object on the sky somewhere in a 28 square degree box in southern Virgo and eastern Hydra, where the 17th magnitude visual object was quickly found a little NE of the galaxy at optical wavelengths by ground-based telescopes. The event produced what is now called a kilonova, much less luminous than supernovae but still ~1000x brighter than a regular nova. This may solve the fifty year mystery of the source of gamma-ray bursts, first turned up by satellites put up during the Cold War to detect thermonuclear explosions on earth. The first binary system composed of two neutron stars was found in 1974 but won't merge for another 350 million years or so.

Aug 18, 1868 - Prominences are first studied with a spectroscope (by at least six different scientists) during a total eclipse of the sun and are shown to be composed primarily of hydrogen.

A 7th scientist not with the others, Norman Lockyer (see May 17), first sees helium in the Sun's spectrum and gives it its name. Jules Janssen also saw the unknown line in the spectrum but didn't go out on the limb of proposing it to be due to an unknown element.
Helium was otherwise unknown on earth until 1895, when it was found in the uranium ore cleveite (named after one of the Swedish chemists involved) where it is a radiogenic product, i.e., made by the radioactive decay of the uranium.
The helium visible in the sun, by contrast, is mostly primordial, with only a tiny fraction having been made in the core by the fusion of hydrogen into helium (the sun's power source), there being no way for it to get from the core up to the surface during the sun's lifetime as a normal star; an even smaller fraction is radiogenic.

Aug 19, 1887 - Russian chemist Dmitry Ivanovich Mendeleyev, famous for first coming up with the periodic table of elements (1868), ascends to 11,500 feet in a hot air balloon to observe a total solar eclipse. In Russia at the time the date was Aug 7 because they were still using the Julian calendar, not moving to the Gregorian calendar until after the USSR was established.

Aug 19, 1964 - Launch of Syncom 3, the first geosynchronous satellite, which was used for TV broadcasts of the 1964 Tokyo Olympic Games, and, later, by the Department of Defense for communications during the Vietnam War.
The idea of such satellites was first brought to public attention by science fiction writer Arthur C. Clarke in a 1945 issue of the magazine Wireless World. Orbiting at 22,236 miles (35,785 km) above the surface of the spinning earth, such satellites have an orbital period of exactly a sidereal day, and thus appear to stay above a particular point.
The Clarke Belt, as it's now called, currently has more than 500 active satellites as well as a large number of dead ones -- like Syncom 3, which was deactivated in 1969.

Aug 19 & 20, 2020 - California wildfires come within meters of the domes at the Lick Observatory on Mount Hamilton, but do no substantive damage, though the historic residence of E.E. Barnard (photo at right) was destroyed.

Aug 20, 1977 - The Voyager 2 spacecraft was launched, on its way to conducting a grand tour of the four outer planets. This was 15 days before Voyager 1, but the latter was on a slightly faster and more direct trajectory, so it overtook Voyager 2 in several months (December) and was the first to flyby both Jupiter and Saturn (see below) before heading up and out of the plane of the ecliptic towards interstellar space.

Aug 21, 1914 - A total solar eclipe and the second attempt to verify the general relativity theory of Albert Einstein, which even though it wasn't published yet already was predicting that starlight passing close to the limb of the sun would be deflected by twice the amount predicted using Newton's law of gravity.
Unfortunately, World War I broke out and Erwin Finlay-Freundlich of the Berlin-Babelsberg Observatory, Germany, and his equipment were interned at their intended observation site in Russia as war spies. Clouds obscured the eclipse there in any event, as there were two other groups planning on making observations also.
This total solar eclipse occurred on the same calendar date as the one widely seen in the U.S. in 2017, but at the opposite node of the moon's orbit. It lasted a similar length, of 2 minutes 14 seconds.

Aug 21, 1972 - OAO-3, the fourth Orbiting Astronomical Observatory, and the second to function properly, is launched. Renamed Copernicus once in operation, to commemorate his birth 500 years earlier (1473), the satellite observed in both the ultraviolet and x-ray regions until 1981.

Aug 21-23, 1924 - Mars was at opposition and closer to Earth than at any time in the century before, or the next 80 years. In the U.S., a "National Radio Silence Day" was promoted during a 36-hour period, with all radios quiet for five minutes on the hour, every hour, so that any possible radio signals from Mars might be detected. At the Naval Observatory a receiver was lifted 3 kms (10,000 ft) above the ground in a dirigible to get the best possible reception.

Aug 22, 1888 - One of the few recorded and reasonably verifiable instances of a human death (and a serious injury of another man) caused by a meteorite -- a meteoritic airburst in this case -- in present-day Iraq.

Aug 24, 2016 - The European Southern Observatory announces the discovery of an earth-like planet in the nearest star system, Proxima Centauri, only 4¼ light years away. Proxima Centauri b orbits in the habitable zone at a distance of but 0.05 AU from Proxima Centauri, and has a period of 11.2 days; its mass is 1.3x earth. The planet was found using the radial velocity method, and causes a motion in Proxima Centauri of only 2 meters per second, about the limit set by granulation and other motions related to convection in the star's atmosphere.
Announced 4½ months earlier, Project Starshot has the objective of sending a fleet of ~1000 light sail nano-spacecraft (each weighing a few grams) to Proxima Centauri b at 15-20% the speed of light in a travel time of 20-30 years, starting in 2036.

Aug 25-26, 1764 - Charles Messier independently discovers M33, the Triangulum galaxy, the third major member of the Local Group (of galaxies) after us (the Milky Way) and Andromeda (M31). The object had first been noted at least 110 years earlier by Giovanni Battista Hodierna.
Twenty years later, William Herschel, who was generally careful to avoid Messier's objects when compiling his own catalog of nebulae, recorded it as H V-17 on Sep 11, 1784. Herschel also recorded separately the bright H II region NE of the galaxy's core as H III.150, now known as NGC 604, one of the largest such star forming regions yet found, with a diameter of nearly half a kiloparsec (~450 pc). Three other H II regions in the galaxy were large and bright enough to also get NGC numbers: 588, 592, and 595.

Aug 25, 1981 - Voyager 1 flies by Saturn, the first ever spacecraft to do so.

Aug 25, 1989 - Voyager 2 flies by Neptune. ditto

Aug 25, 2003 - NASA's Space Infrared Telescope Facility (SIRTF), renamed the Spitzer Space Telescope a few months later after its proponent, Princeton professor Lyman Spitzer, is launched. The 33" f/12 telescope, made of beryllium, was cooled to just 5.5°K by a supply of liquid helium designed to last only a few years. After it ran out in 2009, observations at the two shortest wavelengths (3.6 and 4.5 microns) continued until 2020, the instruments having warmed up to only 30°K.

Aug 25, 2012 - Voyager 1, heading in the direction of the constellation Camelopardalis, reaches interstellar space by going through the heliopause.

Aug 27, 1962 - Mariner 2 is launched aboard an Atlas-Agena B rocket on its way to a Dec 14th fly-by of Venus, the first interplanetary spacecraft ever.

Aug 27, 2016 - The Juno spacecraft makes the first of its planned three dozen orbits close to Jupiter (perijove), reaching only 2600 miles above the cloudtops. Juno also returned the first photos of Jupiter's north pole, as well as aurorae at its south pole.

Aug 28, 1789 - William Herschel discovers Saturn's moon Enceladus.

Aug 29, 1993 - The Galileo spacecraft flies by the asteroid Ida on its way to Jupiter.

Aug 30, 1992 - The first Kuiper Belt object, 15760 Albion (aka 1992 QB1), is discovered by David Jewitt and Jane Luu with the University of Hawaii's 2.2m telescope.
[Discovery images at right; the streak below 1992 QB1 in the first twp frames is a fast moving nearby asteroid.]

Aug 30, 2019 - The discovery of the first true interstellar comet, Comet Borisov = C/2019 Q4 = 2I, by the Russian Gennady Borisov -- the eighth comet he's discovered. The earliest photo of the object was subsequently found to have been made on Dec 13, 2018.
With an orbital eccentricity of e=3.36 this was the second interstellar object to enter the solar system on a hyperbolic, unbound (e > 1) "orbit", but the first to look and behave like the local comets we're already familiar with. Jewitt and Luu (see previous entry) estimated from its coma that the comet was producing 2 kg/sec of dust and 60 kg/sec of water shortly after it was found.
The discovery was at about the 18th magnitude and was made in the relatively empty zone of the sky north of Cancer and Gemini and below Lynx (about 08h26m, +33°39'). It's perihelion occurred at ~2 AU on Dec 8 and it was only expected to reach ~15th magnitude, because the odds favor it having a small nucleus (and mass) for it to have been tossed out of its parent solar system's (presumed) Oort Cloud.

Aug 31, 1846 -- Urbain-Jean-Joseph Le Verrier announces the result of his analysis of the perturbations in Uranus's orbit and the celestial coordinates of the hypothetical planet which must be causing them. Neptune was discovered ~3 weeks later (Sep 23) at the Berlin Observatory by Johann Galle.
The same technique, when applied to the orbit of Mercury, eventually led in a roundabout way to the development of Einstein's General Relativity 70 years later, after decades of inconclusive searches for a hypothetical planet Vulcan. It was Le Verrier, analyzing timing data from transits of Mercury spanning decades, who first measured the advance in the perihelion of its orbit, at the tiny amount of less than half an arc-second per year. At the time this could only be explained by the gravity of an undiscovered perturbing object, like an unknown planet, but in curved spacetime the orbit is not closed by a small amount.

Aug 31, 1932 - G.G. Cillié and Donald Menzel (who got on at Harvard the same year, and 22 years later would become director of the Harvard Observatory) use eclipse spectra to show that the sun's corona has a higher temperature than the photosphere.
This eclipse was also important in the very early history of radio astronomy: Karl Jansky, studying the possible sources of noise in transatlantic phone systems (which used radio transmission) for Bell Laboratories in Holmdel, NJ, with a 100-foot antenna used it to eliminate the sun as the cause. Within 6-8 months (see TM_May.htm#D5) he was able to locate the main cause not due to thunderstorms as emanating from the center of the Milky Way.

Aug 31, 1991 - Japan's Yohkoh solar observing spacecraft is launched. Over years of observation it would show that magnetic reconnection is responsible for flares and coronal mass ejections.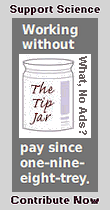 ©2002-2023, Chris Wetherill. All rights reserved. Display here does NOT constitute or imply permission to copy, republish, or redistribute my work in any manner for any purpose without prior written permission.
[ Back to July || On to September ]
[ To: History Directory || Main VISNS page ]