This Month in the History of Astronomy - February
Birthdays
Feb 4, 1906 - Clyde Tombaugh, who discovered Pluto in 1930 (see below).

Feb 7, 1889 - The Astronomical Society of the Pacific, first national astronomy organization.

Feb 13, 1852 - J.L.E. Dreyer, Danish-born Irish astronomer who compiled the New General Catalogue (NGC) published in 1878.

Feb 14, 1898 - Fritz Zwicky, who 1st identified supernovae as a separate class of objects and suggested the possibility of both neutron stars and dark matter.
Zwicky was the first astronomer to observe on Mt. Palomar and was the father of the Sky Survey technique. He almost single-handedly constructed the wide field 18" Schmidt camera to search for SNe, and he discovered over 100 with it, as well as gathering the first evidence for dark matter from observations of clusters of galaxies.
The famous Comet Shoemaker-Levy 9 (which crashed into Jupiter) was discovered with this instrument in 1993.
He also designed both solid rocket motors and missile guidance systems during WWII for the early southern California aerospace industry. Zwicky was adamantly Swiss, even though he lived and worked in Pasadena for forty years, and was the first non-U.S. citizen ever to be awarded the Medal of Freedom (by Truman): he was one of only a handful of scientists at his level sent to investigate both the German V-2 rocket factories and the aftermath of Hiroshima/Nagasaki immediately following the end of the war.

Feb 15, 1564 - Galileo Galilei, first scientist to use a telescope for astronomical observation, making many important discoveries. (see Jan 4)

Feb 16, 1786 - Francois Arago, pioneer scientist in the wave nature of light and the inventor of the polarimeter and other optical devices.

Feb 19, 1473 - Nicholas Copernicus, creator of the modern solar system by showing how the retrograde motion of the outer planets was a natural feature of a system in which the planets go around the Sun.

Feb 20, 1844 - Ludwig Eduard Boltzmann, Austrian physicist and namesake of the constant "k". Boltzmann's work on the kinetic theory of gases (statistical mechanics) tells us how the properties of matter on a small scale determine macroscopic properties like temperature and pressure.
In 1869 in Heidelberg he worked with Robert Bunsen (of Bunsen burner fame) and then, in 1871, with Gustav Kirchhoff and Hermann von Helmholtz in Berlin, two greats in the history of thermodynamics. He became Professor at the University of Graz and taught later chemistry greats Svante Arrhenius and Walther Nernst; it was also here that he developed his statistical concept of matter, quantum physics and atomic theory being yet a decade or two still in the future. Later, as professor in Vienna, he had Paul Ehrenfest and Lise Meitner as students.
In 1906 Boltzmann hanged himself. His tombstone bears the inscription of his entropy formula (second law of thermodynamics):
S = k · log W
In galaxy dynamics the collisionless Boltzmann equation, df/dt=0, expresses the idea that the flow of the probability fluid, which can be used to represent stars, through phase space is incompressible.

Feb 26, 1842 - Camille Flammarion, prolific and widely read 19th century popularizer of astronomy and the notion of there being extraterrestrial life.

Feb 27, 1897 - Bernard Lyot, inventor of the coronagraph in 1930.
Discoveries and other firsts
Feb 3, 1966 - First soft landing on the Moon, by Soviet Luna 9.

Feb 5, 1963 - The first quasar redshift was measured, by Maarten Schmidt, who was seeking optical identification of radio sources. Hence the quasar is named 3C 273 (#273 in the 3rd Cambridge catalog), and it had an unimaginably high redshift of z=0.16 (48,000 km/sec) for the time. It was only shortly later that 3C 48 was similarly found to have z=0.37, thus clinching the case for quasars (which is short for "quasi-stellar radio source") being an extraordinary class of objects.

Feb 5, 1974 - Mariner 10 makes the first close-up photos of Venus.

Feb 6, 1971 - Both the first color TV pictures were sent back from, and the first golf shots were taken on, the Moon, by Apollo 14 astronauts (Alan Shepherd in the latter instance).

Feb 6, 2011 - NASA's twin Solar Terrestrial Relations Observatories (Stereo A & B), which were launched in 2006, first reached a point 180° apart from each other in their orbits around the Sun, giving us the first 360° view of our star ever. Contact was lost with Stereo B 3½ years later (10/1/14) but was reestablished 22 months after that (8/21/16); a failed inertial measurement unit makes it uncertain whether it will be possible to resume science operations.

Feb 6-8, 1946 - The largest sunspot group ever recorded up to that time, covering ~1% of the surface of the Sun, created an intense solar outburst at radio wavelengths which allowed Joseph L. Pawsey and his group at the Radiophysics Laboraory in Australia, working at 200 MHz, to deduce that the emitting region was 8-13 arc-minutes in size, showing that the radiation likely came from the active regions and not from the sun as a whole. Radar researchers during WWII had surmised that excess noise in their systems was due to the Sun (or Milky Way), and only a few months earlier they had shown that the radio noise from the Sun, which varied by 30x over just a few weeks, correlated well with the percentage of area on the Sun covered by spots.

Feb 14, 1990 - Voyager 1 takes the famous "pale blue dot" photo, looking back at an Earth which only fills one pixel at a distance of 40¼ AU.

Feb 18, 1930 - Pluto is found by Clyde Tombaugh (see above) during a search of plates taken with the Lowell Observatory (Flagstaff) 13" telescope.

Feb 20, 1962 - John Glenn aboard Friendship 7 orbits the earth three times, first for an American.

Feb 21, 1901 - Nova Persei (GK Persei) was first spotted by the Scot Thomas Anderson. It reached the bright magnitude of 0.2, or roughly as bright as Jupiter. By the next year a small expanding nebula surrounding it had been photographed at both the Lick and Mount Wilson observatories with the new large telescopes and photographic plates, which prompted speculation as to whether the nebula was an expanding cloud or just a "light echo" hitting material that had been expelled much earlier and was already in place at the time of the explosion. After expanding for more than a century it is now called the Fireworks nebula.

Feb 23, 1987 - SN1987a, the brightest supernova in 383 years, is discovered in the Large Magellanic Cloud visually by Canadian Ian Shelton in Chile.

Feb 24, 1968 - The first pulsar was discovered, by Jocelyn Bell, in a radio search survey. Hewish and Ryle, co-directors of the project, got the 1974 Physics Nobel Prize for matching the observations to a model of a rotating neutron star. This had first been explored theoretically thirty years earlier by J. Robert Oppenheimer, who in the interim became famous as the leader of the Los Alamos lab which developed the A-bomb during WWII and, later, as the victim of McCarthy era politics.

Feb 26, 1979 - During an eclipse of the sun, Alan Clark and Rita Boreiko use a NASA learjet to observe limb occultation of the sun's chromosphere in the far infrared for the first time.
Yours truly's near-infrared (also called the "photographic infrared") observation of the corona illuminated landscape 7 miles NNE of Grassrange, Montana, during totality of the same eclipse, a five second time exposure on 4x5 Kodak High Speed Infrared film (a crude but simple attempt to measure the integrated near-IR brightness of the corona):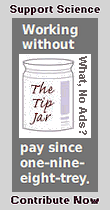 ©2002-2017, Chris Wetherill. All rights reserved. Display here does NOT constitute or imply permission to copy, republish, or redistribute my work in any manner for any purpose without prior written permission.
[ Back to January || On to March ]
[ To History Directory ]