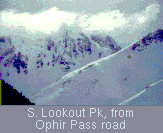 Chris Wetherill's Colorado Mountaineering Page

I've reached the summits of a few more than half of Colorado's Highest 100 peaks -- the so-called Centennials. I hope to have these ascents, plus about two dozen others, documented eventually. Progress is being made on getting this completed: as of April 2002 I have info for around 85% of these climbs available for your perusal, with many being at least partly illustrated. All of my climbs in the San Juans are up. (Follow that first link for all this great content.)

Starting in the Spring of 2003 I've begun to add GPS waypoint tracks for all my routes. Work will start with the highest Thirteeners, working down in elevation before moving on to the 14'ers. As of early May, I have most of the Centennial 13'ers done.

If you'd like to flee the crowds in your hiking and climbing in and around Colorado, try my list of the highest Thirteeners not near a Fourteener. (This is original research by the way...)

[ High-13er Hi-Res Photos (takes forever to load) ]

Even if you think you know them, it probably wouldn't hurt to review the 10 Safety Tips from Ormes, with additional comments and links avec moi.

Why do we do this? || How To Get Started || Colorado Climate || Ammons' Poetry

Interested in the height distribution of Colorado's summits? If so, then click here for several relevations you never would have imagined. (More original research...)

Fourteeners: The List || Hi-Res Photos (takes forever to load) || Connecting Ridges
<! A HREF="http://www.InsideTheWeb.com/mbs.cgi/mb595251" ><! IMG SRC="pics/MsgBrd.gif" ALIGN=RIGHT HSPACE=16 VSPACE=10 WIDTH=139 HEIGHT=70 ALT="[Msg Brd GIF, 1k]"><! /A>

To many descriptions by others of hikes and climbs of Colorado summits, at Steve Parker's most excellent site.

Learn a new language - it's the climbing & mountaineering dictionary! This site also has a brief description of the various classes by which the difficulty of climbs are rated.

The Colorado Mountain Adventures Webring is now up and running.

Peak To Peak / Colorado has links to more general and very comprehensive info available, as does Mountain Web also.

Your source for Colorado winter mountaineering and backcountry skiing appears to be First Trax, though don't overlook The Colorado Avalanche Information Center Website.

For free online topo maps, I've used both MapTech and TopoZone; the former has better quality maps and a neat applet so you can read off longitude and latitude in real time under your cursor, while the latter allows bigger maps and puts a "+" more or less at your chosen coordinates.
<! IMG SRC="pics/sqr_1.gif" HEIGHT=11 WIDTH=11 HSPACE=5 ALT=" * " Hey! Need A HREF="http://www.breakupgirl.com/postcard/cardrack.html" a cute postcard /A ? Check out A HREF="http://www.breakupgirl.com/postcard/wishyou.jpg" "Nice Trip" /A . (See ya next fall...) P>

Last updated: 16 Aug 2020