This Month in the History of Astronomy - November
Birthdays
Nov 1, 1919 - Hermann Bondi, cosmologist, co-inventor of the Steady State theory of the cosmos.
Bondi was born in Vienna, Austria, where experience at a young age with the orthodox Jewish community left him with strong anti-religious views, seeing it as associated with intolerance, even though he himself was technically of Jewish descent; he described himself as "direct hostile" to religion.
When he was sixteen the famous British astronomer Sir Arthur Eddington was visiting Vienna and Bondi was able to meet him. He decided Austria was too much of a scientific backwater so he applied to and got admitted to university in Cambridge the next year. As a foreign student, when Austria became part of the pan-German Reich, Bondi was interned for fifteen months (1940-41), but it was in Quebec, Canada. His parents immigrated to New York, and even got Einstein to intervene on his behalf, but he was not allowed to cross into the US. Thus he became a British citizen and not an American.
After release from internment, he returned to academia in Great Britain before joining Fred Hoyle's military radar development group (magnetrons, specifically), where he worked with Tommy Gold [see May 22]. Bondi and Gold developed a cosmological theory which was in many ways quite distinct from Hoyle's, though today the three together are remembered as the originators of the Steady State theory during the 1947-53 period, even though cosmologies with somewhat similar aspects had been around for decades in Great Britain, involving names such as Eddington, Jeans, Millikan, Nernst, and Milne.

Nov 2, 1885 - Harlow Shapley, American pioneer in determining distances to stars, clusters, and the center of the Milky Way; Harvard College Observatory director for many years.
Early in his career (1911-14) he was Henry Norris Russell's assistant at Princeton, working on eclipsing binary stars. Nearly 10,000 photo-polarimeter measurements on some 90 such systems with the 23" refractor led to great advances in the understanding of very close double stars. He was also able to show that Cepheid variable stars are pulsating single stars, not double stars.
After seven years at the Mount Wilson Observatory, he moved to Harvard, becoming directory of the observatory there for the next 31 years. At Mount Wilson he began studying the variable stars in globular star clusters known as RR Lyrae variables (after the prototype). With these he was eventually able to determine distances to the clusters, showing that the Sun wasn't at the center of a flattened star system some 10,000 light years in diameter (as Kapteyn's 1923 model had it), but that the center of the system of globular star clusters was some 60,000 light years away (high by ~2x because he didn't take interstellar extinction and the dimming of starlight into account, which makes things look farther away than they are), in the direction of what we now take as being the center of the Milky Way galaxy in Sagittarius.

Nov 5, 1906 - Fred Whipple, developer of the dirty snowball model for comets. After an education at UCLA, a teaching fellowship at UC/Berkeley, and a Ph.D. at Lick Observatory (1931), Whipple moved to Harvard and became a full professor by 1950, a post he held until retirement 27 years later. During WWII he worked on radar for the Office of Scientific Research and Development. He was also Director of the Smithsonian Astrophysical Observatory from 1955 to 1973. Whipple discovered six new comets, and worked on a number of related subjects, from the connection between comets and meteors, to the determination of cometary orbits, and the formation of solar systems.

Nov 8, 1656 - Edmund Halley, multi-talented English scientist best known for first determining the orbit of the comet which bears his name, and for encouraging Isaac Newton to publish his famous work on calculus, gravity, and the laws of motion. He also discovered (1718) that some of the "fixed stars" actually had what's called "proper motion", meaning they're not stationary ("fixed") after all.

Nov 9, 1934 - Carl Sagan, U.S. astronomer, planetologist, exobiologist, and popularizer of science and astronomy during the Space Age, (and novelist) and arguably the most famous and well known scientist of about the last third of the twentieth century.

Nov 10, 1843 - The Cincinnati Observatory, the first professional observatory in the U.S., is dedicated and its cornerstone laid by former President John Quincy Adams. It featured a 12" refractor and went into astronomical operation in January 1845.

Nov 11, 1875 - Vesto Slipher, pioneer American observer. Using mainly the 60" and 100" telescopes on Mt. Wilson he was the first to photograph galaxy spectra and measure their redshifts, which led to the discovery of the expansion of the universe by Hubble. By 1925 Slipher had compiled redshifts for 44 galaxies, which Hubble added distance determinations to, leading to the development of his famed distance-redshift relationship (Hubble's Law), as well as the idea of an expanding universe.
Slipher spent his career at the Lowell Observatory, where he was acting or actual Director from 1916 until retiring in 1952. He was behind the search for Pluto which led to its discovery by Clyde Tombaugh in 1930. His other work centered on determining the rotation rate of the planets, and his result for featureless Venus, based on spectral Doppler shifts, is basically the modern value. This same technique is used to determine the rotation curves (and masses) of galaxies. For all the planets outward from Venus except Neptune he had a rotation rate he'd measured.
Slipher also worked on gaseous nebulae in the Milky Way, the interstellar calcium absorption lines in stellar spectra, and was the first to show that the nebulosity around the Pleiades star cluster was reflected starlight, due to its hot, B-type stellar spectrum -- same as its brightest stars.

Nov 13, 1831 - James Clerk Maxwell, English pioneer theoretician in electromagnetism and the nature of light.

Nov 15, 1738 - William Herschel, British astronomer and musician, the discoverer of the planet Uranus (1781), the motion of the Sun in the Milky Way (1785), Castor's binary companion (1804, and in accordance with Kepler's Laws), and infrared radiation. Herschel also discovered many clusters, nebulae, and galaxies in the course of surveying the night sky and compiling catalogues whose basic data is still in use today.

Nov 16, 1717 - Jean-Baptiste d'Alembert, French mathematician, physicist, and theoretical astronomer who worked out an early theory of refraction (1740) from considering models of fluids, invented the field of differential equations, and was the first, along with Lagrange and Laplace, to apply principles of calculus to celestial mechanics.

Nov 18, 1897 - Patrick Blackett, British physicist who won the 1948 Nobel Prize for the invention of the cloud chamber, with which he obtained the first photograph (1924) of an atomic transmutation -- nitrogen bombarded with alpha particles turning into oxygen.
By 1932 his cloud chamber was automatically recording cosmic rays, and the next year he confirmed the existence of the positron (the anti-electron or positive electron, e+). Several years later his cosmic ray studies turned up the first 'strange' particles, such as the hyperon, with lifetimes of only 10-10 seconds; moving at almost the speed of light, a particle such as this would only travel an inch before decaying into other particles. Blackett also confirmed Einstein's famous E=mc2 equation by being the first to observe partice-antiparticle pair creation by energetic cosmic gamma rays.

Nov 18, 1915 - General Relativity. On this date Einstein addressed the Prussian Academy of Sciences with his new, comprehensive theory and announced the solution to the mystery of the perihelion advance of Mercury's orbit, the result of a minute amount of spacetime curvature so close to the Sun.

Nov 20, 1889 - Edwin Hubble, American astronomer who first identified Cepheid variables in M31, establishing the extragalactic nature of the spiral nebulae (galaxies). Building on work by Carl Wirtz, and with Slipher's redshifts (see above), Hubble established the velocity-distance relation for galaxies (Hubble's Law) which demonstrates the universe's expansion.
Discoveries and other firsts
Nov 1, 1977 - Charles Kowal discovers Chiron, the first of a population of smallish icy objects residing in the outer solar system.

Nov 2, 1917 - First light for the Mt. Wilson 100" telescope.

Nov 3, 1955 - A woman in the U.S. is struck by a falling meteorite, one of the few well-documented instances of this having happened.

Nov 3, 1957 - First Earth life in space: the "Muttnik" dog Laika is launched aboard the USSR's Sputnik 2 and dies in orbit.

Nov 5, 2018 - The Voyager 2 spacecraft reaches the heliopause and makes the transition into interstellar space, its plasma detector registering a sharp decrease in the speed of solar wind particles. Around the same time it saw a sharp increase in the number of cosmic ray particles, as well as an increase in the ambient magnetic field. Voyager 1 crossed the heliopause into interstellar space more than half a dozen years earlier (see Aug 25, 2012) but its plasma detector had failed back in 1980 so the transition was not as distinct. Both spacecraft are expected to continue operating and sending back data for another 5-10 years.

Nov 6, 1572 - Tycho Brahe records a bright new star -- now known to have been a supernova -- in Cassiopeia, "visible" today only at very long, radio wavelengths. The SN was visible to the unaided eye -- the telescope not having been invented yet -- for 16 months (until March 1574), and was visible during the daytime, reaching a maximum brightness estimated at mag -4.0 (almost as bright as Venus). In 1934 Walter Baade re-analyzed Tycho's data and concluded the light curve was that of a Type I supernova.

Nov 7, 1631 - French astronomer Pierre Gassendi becomes the first to witness a transit of Mercury (across the Sun).

Nov 8, 1985 - Stephen Edberg, then serving as the Coordinator for Amateur Observations at NASA's Jet Propulsion Laboratory, and Charles Morris were the first to observe Halley's Comet with the naked eye at its 1986 apparition.

Nov 12, 1782 - Eighteen year-old John Goodricke of York, England, begins the first systematic observations of the star Algol (β Persei), by chance during one of its eclipses. He was working off a list of suspected variable stars put together by friend and mentor Edward Pigott, who had been comparing Flamsteed's newest star maps with older maps going back to antiquity, looking for stars that might have changed in brightness. At the time, only Mira (ο), with an eleven month period, was known to be variable, and for centuries the stars had been believed to be fixed and unvarying.
Observing every clear night possible, Goodricke and Pigott were not able to see another eclipse until Dec 28th. They soon determined the dip in brightness from second magnitude to fourth or fifth magnitude lasted seven hours and occurred every 2 days 20 hours and 45 seconds.
Both Goodricke and Pigott interpreted the light curve as being due to an eclipsing planet in orbit about the star, and roughly half its size, not a companion star, but after the observation was confirmed by William Herschel, in May, 1783, a controversey arose: spots on the sun had been known for 175 years, but no other planetary systems or binary stars were definitively known, so the conservative view held that Algol was a heavily spotted star, light on one side and dark on the other, which rotated. Goodricke was eventually persuaded that it must be so. It would be more than a century before his original explanation about the eclipsing nature of the system was confirmed by spectroscopy.
The next year, 1784, Goodricke and Pigott turned up three more variable stars: β Lyrae (another eclipsing system) and the first two Cepheid variables, δ Cephei (the prototype) and η Aquilæ.
Unfortunately for both himself and astronomy, Goodricke, who was deaf and suffered from other ailments, would only live until Apr 20, 1786, just two weeks after being elected to membership in the Royal Society. Pigott would go on to discover two more variable stars, R Coronae Borealis and R Scutti, thus establishing the reality, with John Goodricke, of a new class of stars of variable brightness.

Nov 12, 1949 -The first scientific observations were made with the Palomar 5-meter (200-inch) telescope.

Nov 12, 1980 - Voyager 1 makes its closest approach to Saturn before heading out of the solar system.

Nov 12/13, 1833 - The night of the Great Meteor Shower (Leonid). On the morning of 11/17/1967 a rate of 150,000/hour for ~20 minutes was reported -- the last time there's been such a high rate for the Leonid shower.

Nov 13, 1970 - First ever detection of a neutrino on earth:

The neutrino comes in, invisibly, from about the 4 o'clock direction, and hits the proton (hydrogen nucleus) which is already moving in the 11 o'clock direction because of its thermal motion; as part of a neutral hydrogen atom (or molecule) it is not previously visible. This bubble chamber photo also demonstrates another aspect of particle physics: fermions (the two mesons) are always created in pairs.

Nov 13, 1971 - The U.S.'s Mariner 9 becomes the first spaceprobe to orbit Mars. 7,000+ images, some of which showed features like those on earth associated with running water, suggested that at some time in the past -- 3½-4 billion years ago is the current best estimate -- Mars had a much denser atmosphere and a warmer climate, since liquid water can't exist there now.

Nov 14, 2003 - 90377 Sedna is discovered by Palomar's QUEST (Quasar Equatorial Survey Team) -- a mosaic of 112 CCD detectors covering a 4° x 4° field of view of the 48" Schmidt telescope -- that has discovered some 40 Kuiper Belt objects.

Nov 15, 1968 - R.B.E. Lovelace and associates observe the pulsar NP 0532 in Taurus with the 305-meter Arecibo radio telescope and determine its position to be within 10 arc-minutes of the center of the Crab Nebula (M1), the remnant of the supernova observed in 1054 A.D.
Because lower frequency radio waves are slowed a tiny bit by free electrons in the interstellar medium (trapped in the galaxy's magnetic field) between us and the pulsar, it's possible to estimate its distance from the relative delay of its pulses at one frequency relative to another. This distance was in line with estimates of the distance to M1.
Along with another pulsar previously found that was near the center of the radio source Vela X, which has a broken up shell-like or bubble appearance at visual wavelengths and had been hypothesized to perhaps be an older, larger, and more evolved supernova remnant, less than a year after the first pulsar was discovered this was the start of the idea that they were the stellar remnants of supernovae explosions, though at that time their nature was unknown and they were thought to maybe pulsating stars of some sort rather than rotating highly magnetized neutron stars.

Nov 16, 1974 - The new surface of the giant 1000-foot radio telescope at Arecibo, Puerto Rico, is dedicated by sending a brief message in the direction of the half million or so stars in the globular cluster M13. [Full story]

Nov 17, 1970 - Luna 17 is the 1st wheeled vehicle to land on the moon.

Nov 18, 1989 - Launch of the COBE (COsmic Background Explorer) satellite aboard a Delta rocket into a polar, sun-synchronous orbit. By April 23, 1992, the COBE team had acquired sufficient data (~10 months) to detect and announce the anisotropy in the 3° cosmic microwave background, at the level of only one part in 100,000 of its absolute brightness, which won the Physics Nobel Prize in 2006 for Smoot and Mather, two of the mission instrument designers and principal investigators.
COBE also made important measurements and discoveries relating to the diffuse infrared background (w/DIRBE - the Diffuse InfraRed Background Experiment), which showed that the interplanetary dust responsible for the zodiacal light is likely of asteroidal (and/or cometary) origin. These measurement also determined that the sun's orbit around the Milky Way galaxy is such that the sun is currently 15.6 parsecs (51 light years) above the midplane of the disk. Stars like the sun in nearly circular orbits around the galaxy do not follow Keplerian orbits, and are thought to oscillate up and down through the midplane several times per orbit.

Nov 19, 1816 - Though he did not write up the report until 1820, Carl Wolfgang Benjamin Goldschmidt calls attention to the "shadow bands" visible just before and after totality at some total solar eclipses. The earliest known record of these goes back to the Volospa, part of the old German poetic edda from the 9th century.

Nov 19, 1962 - The first interplanetary radio message, the so-called Mir Message, was sent from a radar dish in the Ukraine (then part of the Soviet Union) towards Venus, in Morse code.

Nov 21, 1862 -- Warren de la Rue makes the first photograph of a solar eclipse (partial), but had to go all the way to Antarctica to do it.

Nov 21, 2009 - The Cassini spacecraft first sees erupting geysers on Saturn's moon Enceladus.

Nov 23, 1885 - The first photograph of a meteor shower is made.

Nov 23, 1949 - Walter Baade images the area around SN 1572 (Tycho's Supernova) with the new 200-inch telescope on Mt. Palomar. His red sensitive plates showed nebulosity on the E edge of where the remnant was expected to be (based on its not very precise radio position), but he didn't report its detection after concluding what he saw was too far away in angular distance to be related to Tycho's Star. Credit for the discovery of the remnant, in 1952, thus goes to Hanbury Brown and Hazard at the Jodrell Bank radio observatory; 3C 10 is the second brightest radio source in the constellation Cassiopeiae, and Cas A (the brightest) is the brightest radio source in the sky outside the solar system.

Nov 23, 1977 - Meteosat 1 becomes the first satellite put into orbit by the European Space Agency (ESA).

Nov 26, 1965 - First French satellite launch -- Asterix 1.

Nov 27, 1971 - The Soviet Mars-2 spacecraft becomes the first manmade object to reach (& hit) Mars.

Nov 29, 1961 - After 1,250 hours of training, the "astrochimp" Enos becomes the first living creature put into orbit by the U.S., aboard Mercury-Atlas 5. The mission lasted 3 hours, 21 minutes -- about 2½ orbits -- before parachuting down to the Atlantic Ocean. This test launch paved the way for the U.S.'s first manned orbital flight three months later.

Nov 29, 1967 - First Australian satellite launch -- Wresat 1.

Nov 30, 1954 - Elizabeth Hodges is hit by a 5 kg meteorite in Alabama.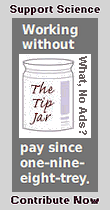 ©2002-2019, Chris Wetherill. All rights reserved. Display here does NOT constitute or imply permission to copy, republish, or redistribute my work in any manner for any purpose without prior written permission.
[ Back to October || On to December ]
[ To: History Directory || Main VISNS page ]