This Month in the History of Astronomy - May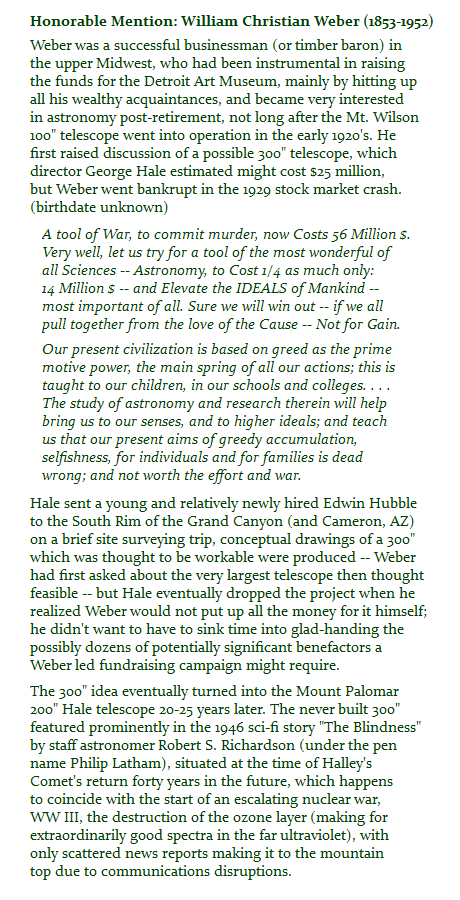 May 6, 1872 - Willem de Sitter, Dutch astronomer and mathematician, who worked at the Cape Observatory in South Africa and later became chair of astronomy at Leiden University for the last fifteen years of his life.
He's chiefly remembered now for the de Sitter model of the universe (1917), an early solution to Einstein's equations of general relativity which is spatially flat, has no matter in it (zero density), but a positive cosmological constant, so it expands. Two years before his death he co-authored a paper with Einstein, creating what's called the Einstein-de Sitter universe (1932), in an attempt to combine all the observational data then known into a coherent model for the universe; this universe is also flat, but contained matter and therefore decelerated.
During WW I, de Sitter provided the only copies of Einstein's papers on his new theory of relativity (general relativity) to the English speaking world, via Arthur Eddington in Great Britain, who would be instrumental in promoting and testing the theory at the May 29, 1919, total solar eclipse (see below).

May 15, 1713 - Nicholas Louis de la Caille (or de Lacaille), French astronomer and mapmaker who demonstrated that the Earth bulged at the equator. From 1751 to 1753 he mapped the southern skies from The Cape of Good Hope and established the 14 "modern" constellations there.

May 17, 1835 - J. Norman Lockyer, discoverer of the element helium in 1868, while making visual spectroscopic studies of the sun (helios), when he attributed unknown absorption lines to the new element, not located on earth until 1891. It's the second simplest and most abundant element in the universe after hydrogen -- though rare on earth because here it results from the alpha decay of radioactive elements.
Sir Lockyer is also known as the Father of Archeoastronomy: he was among the first to propose that Stonehenge was an astronomical observatory and that the Egyptian pyramids and great medieval Christian cathedrals were built along important astronomical orientations.

May 22, 1920 - Tommy Gold, iconoclastic and outspoken Austrian-born British cosmologist who never got a Ph.D.
Besides his work with Fred Hoyle and Hermann Bondi on the steady state theory, Gold, after moving to the U.S. at age 36, is probably most famous now for raising the alarming possibility that the first lunar lander might sink into a deep, quicksand-like layer of fine lunar dust and immediately be lost.
In 1959 he switched from Harvard to Cornell, and subsequently hired both Carl Sagan (who'd been denied tenure at Harvard) and Frank Drake, as well as being instrumental in the building of the Arecibo radio telescope.
Later he would propose what's known as the deep hot biosphere, anaerobic bacteria and other similarly simple lifeforms living deep down in the earth's crust in a hitherto unknown ecosystem; when a Swedish drilling team stopped after going a couple of kilometers down without finding anything his quip was that they didn't go deep enough.

May 25, 1865 - Pieter Zeeman, Dutch physicist who discovered the splitting of spectral lines by strong magnetic fields, an effect now named after him, though it was first predicted by his mentor Hendrik Lorentz, with whom he shared the 1902 Nobel Prize in Physics, only the second time it had ever been awarded. George Hale observed the Zeeman effect in sunspots in 1908, leading to the recognition that they are dark because magnetic fields are acting to impede motion of hot material into these regions, "bottling up" gas which cools by radiating away some of its initial heat content. Zeeman also helped discover the isotope of argon with mass number 38.

May 26, 1882 - Kenneth Mees (often C.E. Kenneth Mees, for Charles Edward), pioneering British photographic scientist who developed the first emulsions for astronomical use, as well as some of the first sensitizers making films respond to infrared light out to ~13,000Å (1933).
After getting his doctorate in photographic theory at the University of London (1906) working under Chemistry Nobel Laureate William Ramsay, Mees went to work for Wratten and Wainwright, Ltd., assisting Frederick Wratten in developing some of the first panchromatic (red sensitive) photographic plates. In 1912, Eastman Kodak bought Wratten & Wainwright chiefly because George Eastman wanted to acquire Kenneth Mees, bringing him to Rochester, NY, creating the Kodak Research Laboratories, and making him its first director. Later he would be VP in charge of Research and Development for Kodak until his retirement in 1955.
Mees ran the first ever school for aerial photography, during World War I. Eventually elected to the National Academy of Sciences (1950 - after he finally became a US citizen), Mees authored over 100 scientific papers and oversaw the development of such famous color films as Kodachrome (1935, after non-wandering dyes were discovered), Ektachrome (1940, using "color couplers" which form the dyes from developer reaction products), and Kodacolor (1942).
His continued and dedicated support of ever better photographic emulsions for astronomical use was vital for much of astronomy until the switch-over to solid state, electronic detectors some decades after his death in 1960. One of the key insights Mees helped foster was the realization that speed was not necessarily the central issue for astronomical applications so much as minimizing what's called reciprocity failure -- the tendency for emulsions to behave like leaking buckets when the light levels are very low and the exposures very long. That, as well as the fact that slower, fine-grained emulsions might out-perform in detecting the faintest objects since film grain acts as a limiting noise source.
[Photo at right is with George Eastman (left) and Thomas Edison (right) in August, 1928, when the first color motion picture films went on the market.]

May 28, 1930 - Frank Drake, American radio astronomer and SETI (Search for ExtraTerrestrial Intelligence) pioneer, who developed the famed equation named after him -- sometimes said to be the second most famous equation in the world, after E=mc2 -- shortly after the completion of Project Ozma (1960), the first search (of two stars: τ Ceti and ε Eridani) for artificially generated radio signals.
Drake's early work at the National Radio Astronomical Observatory (NRAO) was mainly on the solar system, where he discovered the ionosphere and magnetosphere of Jupiter, but he also made early maps of the galactic center.
He was instrumental during this time in getting Arecibo upgraded from a facility for upper ionospheric research into one suitable for general purpose radio astronomy. He would serve as director there from 1966 to 1968, followed by a decade as director of the National Astronomy and Ionosphere Center (which includes Arecibo) after it was created in 1971.
Drake was president of the board of trustees of the SETI Institute when it was founded in 1984, was President of the Astronomical Society of the Pacific from 1988 to 1990, and was chairman of the Board of Physics and Astronomy for the National Research Council from 1989 to 1992. He was elected to the National Academy of Sciences in 1972.

May 31, 1912 - Martin Schwarzschild, German-born American astrophysicist. The son of also famous astrophysicist Karl Schwarzschild (see Oct 9), Martin left Germany in 1936 and spent most of his post-WW II career at Princeton working in a multitude of areas relating to stellar structure and stellar evolution. His 1958 book on the subject was the standard text for the next 20+ years. After retirement he also contributed to the field of galaxy dynamics, building theoretical models of triaxial galaxies.
Discoveries and other firsts
May 1, 1949 - Neptune's moon Nereid is discovered by Gerard Kuiper.

May 3, 1715 - The date of the total eclipse of the sun now called Halley's Eclipse, because he was the first to calculate in advance any eclipse's time and location with reasonably high precision. Due to inaccuracies in the ephemeris for the moon he used, Halley was off by 4 minutes in the timing and 20 miles in the exact track location. Halley himself viewed the eclipse from London.

May 5, 1933 - Karl Jansky's announcement of the discovery of mysterious radio "star noise" coming from the center of the Milky Way runs in the New York Times, which says "There is no indication of any kind ... that these galactic radio waves constitute some kind of interstellar signaling, or that they are the result of some form of intelligence striving for intra-galactic communication".

May 5, 1961 - Alan Shepard became the first American in "space" (as we now refer to that region above the sky), taking a 15 minute suborbital ride aboard the Mercury craft Freedom 7.

May 10, 1994 - Alan Clark and associates use a lunar limb occultation during an annular eclipse of the sun to measure profiles of spectral lines in the chromosphere formed by carbon monoxide.

May 11, 295 - What would eventually become known as Halley's Comet centuries later makes its closest approach to earth for this apparition, at less than 30 million miles, eleven days after perihelion. It is recorded in China as a "broom star in the west".

May 12, 485 - Probable date of the first known conference of astronomers, at current day Copán, Honduras.
Mayan interest in eclipse prediction and refining their calendar likely started in earnest 150 years earlier, during the 14 year period from 331 to 344 (A.D.), when five solar eclipses were visible in the region of current day Mexico, Guatemala, and Central America -- a total eclipse (331), a partial eclipse (335), an annular eclipse (342), and two near-total eclipses (338, 344).
A decade after the meeting the region saw two partial solar eclipses only a month apart, with a lunar eclipse in between.
The Mayan's Sacred Round was 260 days long, so two of these (520 days) constituted almost exactly three eclipse half-years (173.31 days x 3 = 519.93 days), when the nodes of the moon's orbit (where it crosses the ecliptic) are aligned with the sun and an eclipse is possible if the moon is near enough to that position then.

May 12, 1706 - An Englishman vacationing in Switzerland reports a "reddish streak" along the rim of the sun right at the beginning of totality of a solar eclipse, making it the first mention of the sun's chromosphere. Nine years later, Edmond Halley, observing a total eclipse in England through a telescope, notes bright red prominences, as well as what would later be called Baily's Beads (see May 15 below).

May 12, 1866 - The Nova of 1866 is discovered by Irish astronomer John Birmingham, at about the same magnitude, 2¼±¼, as nearby Alphecca (α Cor Bor, an Algol type eclipsing binary). Now known as T Coronæ Borealis -- the "T" because it was the third variable star discovered in that constellation, and the letter prefixes for variables start with R. It is now a prototype for recurring novae.
Sometimes known as the Blaze Star, it was the first nova to be examined spectroscopically; curiously, it was only after it had faded from maximum brightness for a few weeks that the spectrum became interesting, showing broad emission lines. These originate in the hot expanding gas cloud surrounding the star after the explosion, and are thus visible only after the star itself has faded some in brightness; also, the gas cloud becomes brighter after it has expanded to a larger size but not had too much time to cool. The star had previously been observed by Argelander, being catalogued as B.D. +27°.2765.
Normally at around magnitude 10½-¾, the star has novaed one other time since, reaching 3rd magnitude on February 9, 1946. With this period of ~80 years it might be expected to nova again in about 2025-6. Indeed, it brightened ~1¼ magnitudes in February, 2015, just as it had similarly brightened eight years before the 1946 outburst. It has stayed at an elevated level of activity since. After both eruptions it took about a week for the explosion to fade and drop the star below naked eye brightness.
T Cor Bor is a star often monitored by amateurs visually or with small telescopes because of its relative brightness. Even at an estimated distance of 2,000 light years it can be seen in its low state in 2½-3" (65-75mm's) telescopes and binoculars. It is well-placed near the zenith for mid-northern latitude observers from about February to August. For being a lesser known constellation, Corona Borealis is easy to find because it's a half-circle of half a dozen or seven stars located halfway along a line from Arcturus to M13 along the NW side of Hercules.
It's maybe also worth mentioning that Alphecca itself played a crucial role during the Apollo missions as a positional reference, Star #32, to get the spacecraft oriented properly and going in the desired direction. Observations were made visually with a "space sextant", and the measures were then crunched back at mission control in Houston. For example, on Apollo 17, Alphecca was used (with another star) to determine that the midcourse correction burn #2 of the engines on the way to the moon needed to last 1.58 seconds: "Purpose of this burn is to raise the pericynthion from an impact trajectory [with the Moon] as it stands now, to one with a clearance over the Moon of some 53 nautical miles, which will become the pericynthion of lunar orbit." In other words, without these measures on this star and the subsequent course correction due to the engine burn Apollo 17 would have crashed into the moon rather than gone into orbit. (NASA) Alphecca was used on (at least) missions #11 and #16, too.
(Note: I've also seen a date of May 18th for this event.)

May 13, 1733 - Birger Wassenius is the first to report prominences visible to the unaided eye during a solar eclipse, but attributes them to the moon.

May 14, 1973 - The space station Skylab is launched into earth orbit aboard a Saturn V rocket. The first of three different crews arrived via a Saturn 1B eleven days later. The lab was manned for a total of 171 days, ending Feb 8, 1974. It was outfitted with a special instrument port through its wall so there was easy access to the space environment outside the lab.
The third crew took up a special insturment -- a UV camera taken to the moon on Apollo 16 -- to observe Comet Kohoutek around its perihelion passage on December 23rd, having first sighted the comet visually ten days earlier; their third space walk, on December 30, gave them the opportunity to observe it continuously for about 3 hours without the constraints of using the instrument port. Things were running smoothly enough that this third crew was able to stay up an additional 28 days beyond what had originally been planned.
See also: Comet Kohoutek

May 15, 1836 - Francis Baily's annular eclipse in Scotland, from whence the term Baily's Beads derives.

May 17, 1882 - Arthur Schuster photographs the first unknown comet ever discovered during a total solar eclipse. The sun-grazing comet has not been seen since, though with only one observation it wasn't possible to get a very good fix on its orbit.

May 18, 1910 - Halley's Comet transitted the Sun, but was not seen in telescopes, leading to an estimate of about 100 km for the upper limit of the size of its nucleus.

May 19, 861 - Probable date of the oldest known meteorite fall which was both witnessed and for which samples have been preserved to this day. This happened in Nogata, Japan, on the island of Kyushu. The fall left a pit in the garden of the Suga Jinja Shinto shrine, and the meteorite is now brought out on public display at the Grand Shrine festival every five years.

May 21, 1961 - President John F. Kenedy launches the country on a journey to the Moon in perhaps his grandest and most famous speech.

May 22, 1724 - The Italian/French astronomer Giacomo Filippo Maraldi concludes the corona is part of the sun because the moon traverses it during a total eclipse.

May 23, 1967 - A powerful solar flare simultaneously jams all three U.S. ballistic missile early warning system (BMEWS) radars, causing the Air Force's Strategic Air Command (SAC) to go on high alert and put nuclear armed bombers into the air -- before space weather specialists determine the cause was not the Soviet Union.

May 28, 1959 - First primates in space; rhesus monkeys Able and Baker complete a suborbital flight.

May 28, 1900 - The first ever movie of a solar eclipse is made, by John Nevil Maskelyne in Wadesboro, NC.
Watch the movie

May 29, 1919 - Measurements made during a total eclipse of the Sun agree with predictions made on the basis of Einstein's General Relativity theory. This was G.R.'s first scientific test of a predictive nature. (The precession of the perihelion of Mercury was already well-known when G.R. accounted for it.) The curvature of spacetime due to the sun's mass, which we normally think of as gravity, slightly deflects or bends the light coming from stars beyond the Sun, causing their apparent position to be different from when they're not near the Sun on the celestial sphere.
Ignoring what radioastronomers can do nowadays, you can only observe stars near the sun's limb, where the effect is most pronounced -- though still only about an arc-second (1.75 max) -- during an eclipse. Interestingly, Newton's theory of light and gravitation also predicts an angular deflection, but the amount is only half that of G.R.
Moral: light travels along straight lines only in spacetime!

The eclipse occurred with the Hyades cluster in the background, providing numerous stars for the measurements. The actual results were announced Nov 6th by Dyson and Eddington before a joint meeting of the Royal Astronomical Society and the Royal Society.

May 30, 1944 - A squadron of B-24's flying over Mount Palomar on a training run before being shipped out to the Central Pacific Theater in WW II has a fighter from VF-36 mysteriously fly vertically down through the formation of four planes. One of the bombers had about 10 feet of its wing sheared off. It and the fighter plane spiraled down and crashed, killing all twelve.

May 31, 2010 - OPERA researchers observed the first tau neutrino candidate event in a muon neutrino beam, the first time a transformation in mixed neutrino states had been observed. This bears on the neutrino's mass (if any), which is important because the universe is filled with neutrinos so their combined mass (if any) could be important in how the universe evolves.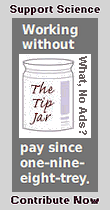 ©2002-2021, Chris Wetherill. All rights reserved. Display here does NOT constitute or imply permission to copy, republish, or redistribute my work in any manner for any purpose without prior written permission.
[ Back to April || On to June ]
[ To: History Directory || Main VISNS page ]