Spanish Peaks & Culebra / Sangre de Cristo Range Vista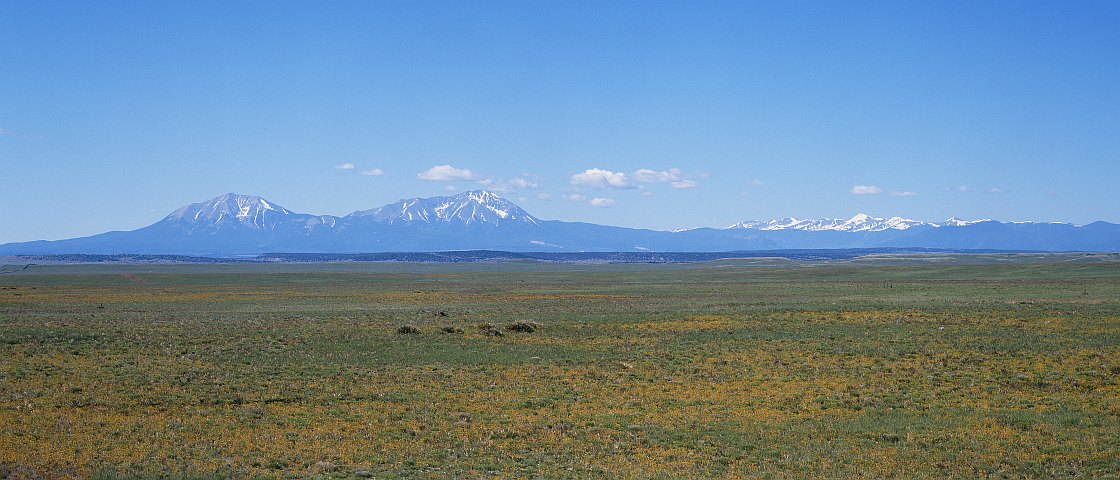 Details
This was shot on Ektachrome 4x5 sheet film (E-6) with a 210mm lens, about a third of the way through June, and maybe around 10:30-11:00 AM, when the first cumulus clouds were just starting to form over the mountains as part of a typical daily pattern in the summertime.
GPS location: 37° 49¼'N, 104° 50'W; 6030 feet altitude.
This view is looking SSW-SW so West Spanish Peak is just left of center. Trinchera Peak is the prominent snow covered mountain directly under the little cloud, 41 miles distant. The Spanish Peaks can often be seen from high points around Colorado Springs to the N at a distance of more than 100 miles. The native name for them was Wah-to-yah, circa 1847 -- the time of the Taos and Santa Fe Trails.
Note the two volcanic dykes, visible as tilted light lines, at the base on the N slopes of West Spanish Peak. These are classics that are often seen as type examples in textbooks on geology.
The Sangre de Cristo is perhaps my favorite range for rugged wilderness, and while I have a large number of great photos I've taken there this is the only one currently among the samples here.
This is one of the few times I've ever used a polarizing filter -- I've never particularly liked its effect -- in this case to slightly darken the sky above the mountains and remove a small amount of intervening haze, clarifying the distant landscape slightly.
This crop represents roughly a 4" x 1¾" area on the original sheet film, which was scanned at 2400 DPI, so the native resolution of the digital file is very high (~40 MP). This 525 KP version for electronic display represents a reduction in area of ~75x. A physical print could be enlarged to a width of perhaps as much as 60" without serious degradation of fine detail ("enlarging the blur").
All copyrights reserved. © 2018 C. Wetherill.


Back to: Main VISNS Page || Sample Photos Index