Winter Sunset; Monarch Pass, CO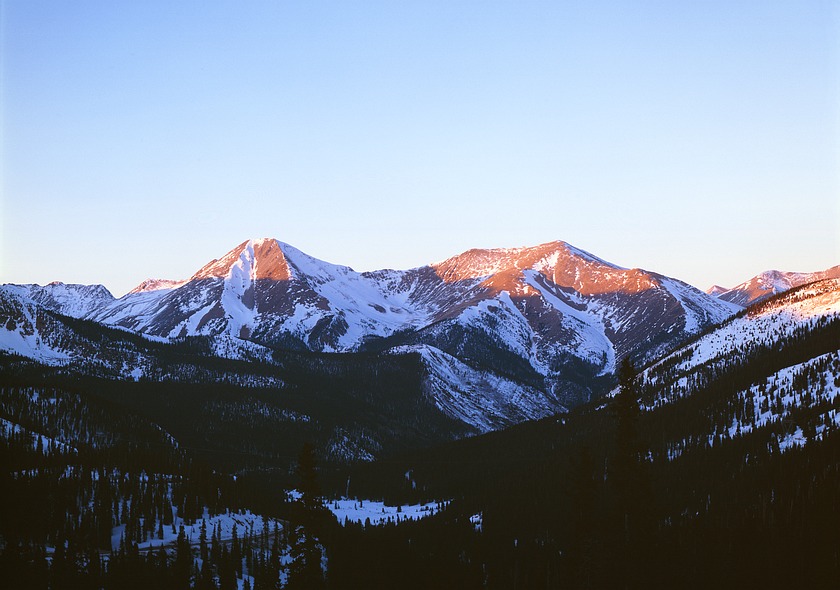 Details
This is the view north from the highway over Monarch Pass. It was taken at the end of January during an obviously lean snow year. In fact, it was only a few days after the Challenger disaster in 1986. Since January is our driest month, whatever snow falls as the jet stream moves south from about October to December is about what we have to last us until it moves back north starting about the middle of February.
GPS location: 38° 29.9'N, 106° 19.6'W; 11,300 feet altitude.

Mount Aetna is on the left and Mount Taylor to the right. The south face of the former from this angle clearly shows the prominent gully, dropping straight down from the summit ridge almost to timberline, which is a classic extreme snow/ski descent when conditions allow.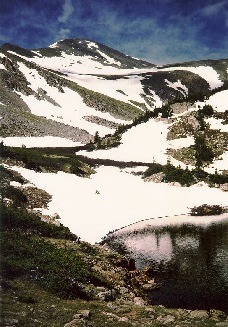 After admiring it many times when going over Monarch Pass, I had climbed Mt. Aetna the previous summer from the other side shown here, namely Hunky Dory Gulch -- yes, that's it's real name. It's an untrailed route up through the timber to a nice, hidden alpine lake not on the topo map (photo at right), and then up not-very-steep tundra and (eventually) chiprock to the top.
The aspect ratio of the photo shown is (exactly) 1.425. There are some tighter crops (higher a.r.'s) with less sky that I like, but this shows the full expanse of sky in the original.
The native resolution of the original digital file is extremely high (84 MP). This 484 KP version for electronic display represents a reduction in area of ~178x.
All copyrights reserved. © 2019 C. Wetherill.


Back to: Main VISNS Page || Sample Photos Index