Vista S from Blackwall Mountain's S ridge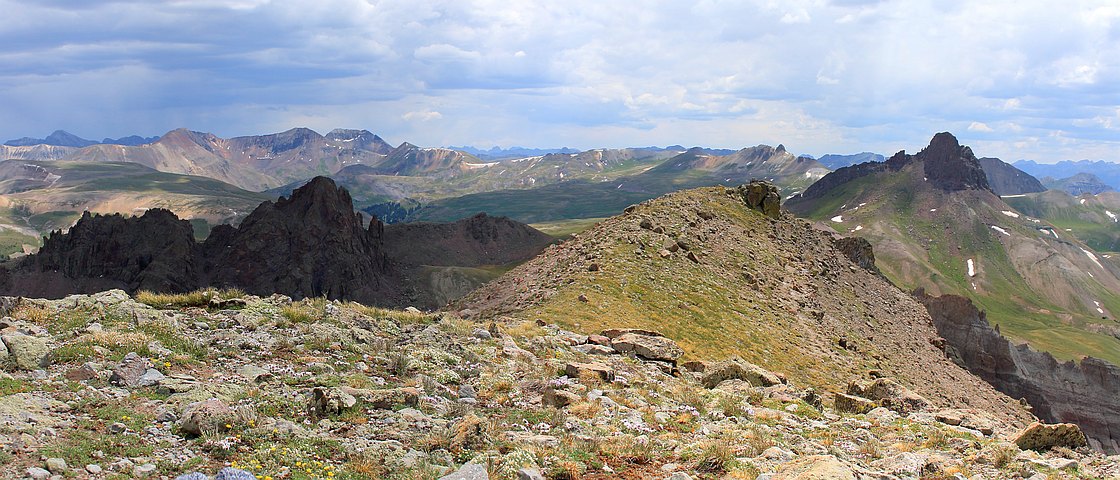 Details
GPS location: 38° 01' 40"N, 107° 33.9'W; 13,090 feet altitude.
The most prominent summit, at right and nearest, is Wildhorse Peak. At farthest left is the 14'er Handies Peak. Nearer and left of center, with a flat top, is UN 13,722 (aka "Animas Forks Peak"). Immediately to its left and nearer but fourteen feet lower is UN 13,708, which is connected to orange Wood Mountain. In the distance at center is the Grenadier/Needle Range. At farthest right is Vermillion Peak and the twin summits of Rolling Mountain. In the original, the Engineer Pass road is visible right of center at 3¼ miles.
The native resolution of the original digital file is high (15+ MP). This 525 KP version for electronic display represents a reduction in area of 30x.
All copyrights reserved. © 2018 C. Wetherill.


Back to: Main VISNS Page || Sample Photos Index