Full Moonrise E of Montrose, CO.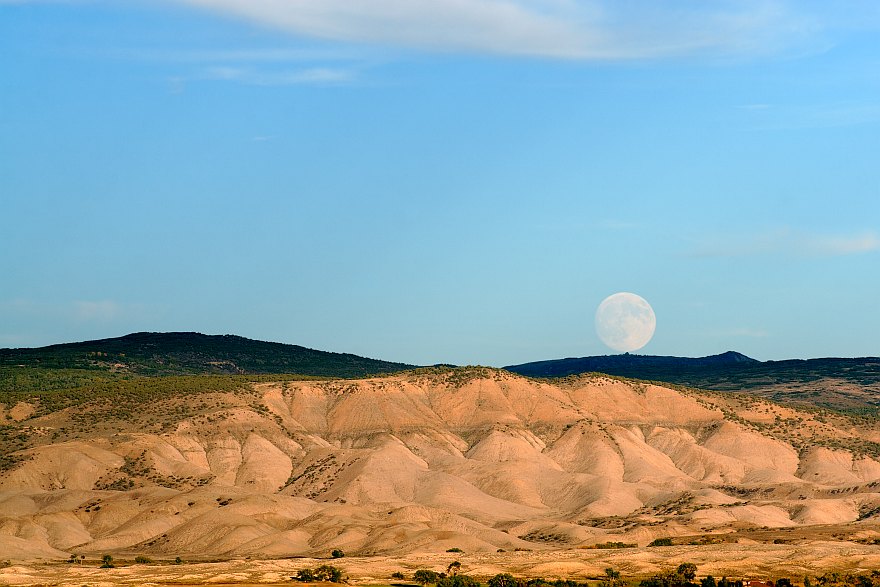 Details
This photo was taken the moonrise one day before the lunar eclipse of September 27, 2015, while site testing locations on Sunset Mesa W of the Uncompahgre River (W of town).
GPS location: 38°27¼'N, 107°52.6'W; 5975 feet altitude.
It's difficult to take a good picture of the bland and desolate mudhills E of town, but I think I succeeded here. This photo also works with a 16:9 aspect ratio -- the moon is then a little above centered vertically when all the cropping is done off the top -- but I've left it as is because I like the wispy clouds at the top of the frame.
Note the visible cloud shadows in the sky coming down from the upper right. This effect is exaggerated when looking in the anti-solar direction with the sun low in the sky, by the geometry increasing the shadow's path length through the air in the direction the camera is pointed.
The native resolution of the original digital file is high (7.8 MP). This 500+ KP version for electronic display represents a reduction in area of ~16x.
All copyrights reserved. © 2018 C. Wetherill.


Back to: Main VISNS Page || Sample Photos Index