Potosi Peak & Teakettle (left); San Juan Mountains, CO.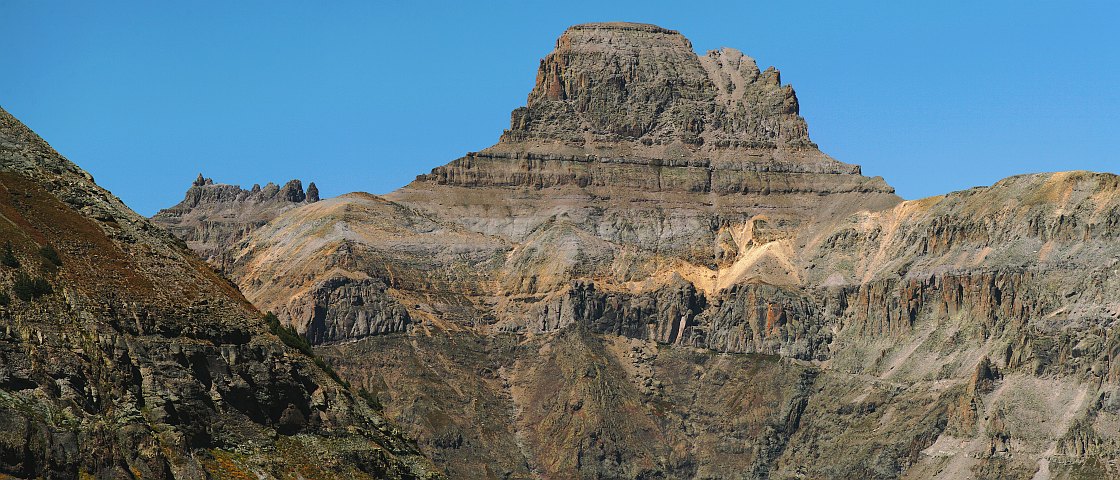 Details
This photo was made in Imogene Basin a switchback or two above where the very rough Imogene Pass 4WD road (FS #869) crosses the creek right about at timberline. The peaks then are visible to the NNW, 3¼ miles for Potosi.
GPS location: 37°56'59"N, 107°43½'W; 11,510 feet altitude.
Mountain climbers will appreciate this photo for clearly showing the upper part of the route on Potosi Peak (above the level double cliff band across the face until there's a break in the cliffs above), as well as the serious nature of Teakettle's 5th class summit pinnacle.
The light colored region further down on the SE face might at first be attributed to the all too common legacy of extensive mining in the area 140 years ago -- the ghost town of Sneffels is a short distance and at least 2000 vertical feet S -- but the USGS topo map shows no mine shaft, claim, or anything else at this location, so it's likely a natural outcrop of the sort which is common in the area.
This composite was made from a 2x4 array of vertical (or "portrait") orientation exposures using an 11x telephoto lens. A geared tripod head ensured accurate positioning and frame overlap, yielding the 21:9 aspect ratio almost directly, with only a tiny bit of cropping needed (<1½%).
The native resolution of the original digital file is very high (24¼ MP). This 525 KP version for electronic display represents a reduction in area of 47¼x.
All copyrights reserved. © 2018 C. Wetherill.


Back to: Main VISNS Page || Sample Photos Index